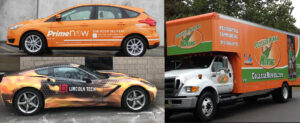 Nothing gives a brand continuous, repeated exposure quite like expertly executed vehicle wraps and truck graphics. In today's cluttered marketing environment, you need to STAND OUT. Traffic jams become marketing opportunities and parking lots become brand builders. GMG Wide has built its reputation in the large format industry with custom vehicle wraps –and it's time you discovered why.
The Big Benefits of Car Wrapping and Fleet Vehicle Graphics are Awesome!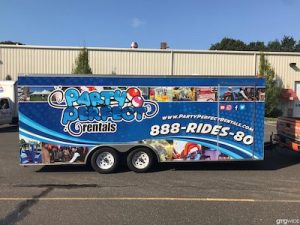 Parked in front of an event or driving a daily route, car and truck wraps become rolling billboards, capable of millions of impressions per month. In fact, the Outdoor Advertising Association of America states that more than 95 percent of Americans are reached by media targeting vehicle drivers and passengers. Custom vehicle wraps are an excellent marketing tool for any size business. When a business uses vehicle wraps, it puts them on the same playing field as franchises and companies that are large enough to spend massive amounts of marketing dollars to maintain an outdoor presence as well as those who also have large national vehicle fleets.
CHECK OUT OUR INSPIRATION GALLERY OF CAR WRAPS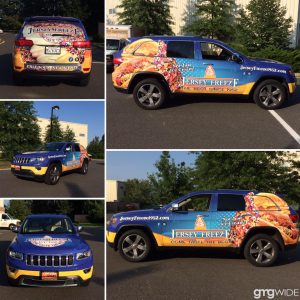 At GMG Wide, any fleet of vehicles, from cars to trucks, can be blanketed with your company's message with car wrapping. Our 3M vinyl wrap materials are engineered to last the test of time. They are bold, colorful ways of attracting attention to your brand and message. GMG provides a turn-key solution in facilitating the design, print and installation of car and truck wraps nationwide. When you need truck graphics or custom vehicle wraps, you need GMG Wide. If it's not wrapped, it's not earning income!
Contact us at 973-276-7901 for a free estimate on a 3M vinyl wrap today.