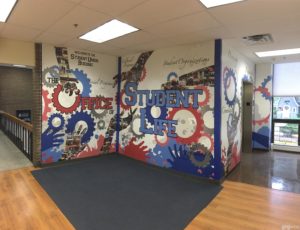 Why settle for an uninspiring painted wall with framed picture displays when you can transform the space with wall murals? Why let a marketing opportunity on your building's exterior or interior walls pass you by when you can have a wall or building wrap? At GMG Wide, we can show you all of the possibilities with custom wall murals, building banners, window graphics.
Live Large with Large Wall Murals
Bigger is better when it comes to advertising. If you are looking to get creative and take your marketing campaign to a new level, it's time to experience what wallscapes can do for you. Indoors, custom wall murals can transform a blank space into a promotional tool for captive visiting audience. Outdoors, a building wrap or large banner can reach your audience where they live, work and travel. At GMG Wide, our mural wallpaper and large wall murals are customized to fit your space or any size wall to translate your message your clients in a BIG way.
CHECK OUT OUR INSPIRATION GALLERY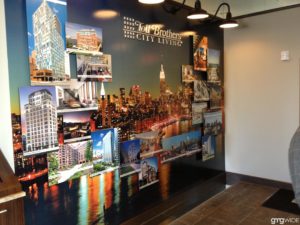 In a world full of traditional advertising that many people have become immune to, wallscapes allow your business or brand to stand out. At GMG Wide, we have the knowledge and technology to transform any blank wall into something BIGGER no matter how large, small or uniquely shaped your space is. Our mural wallpaper is customized, using the best-quality materials in the industry. Our wall murals are perfect for larger indoor wall areas when your company demands something more impactful than traditional decor. Large building banners or a building wrap can take your business to new, sky-high levels. Let us show you how!
Don't settle for traditional marketing methods. Think big and make a lasting impression with GMG Wide. Call 973-276-7901 today for a free consultation.